The 2014 NCAA Tournament provided the world with plenty of memories as No. 7 Connecticut and No. 8 Kentucky busted virtually every bracket on the planet to make it to the title game. Once there, the veteran Connecticut squad exposed the youth of Kentucky to take home the NCAA championship.
A lot happened during the 67 games of the NCAA Tournament, so here is a bit of a highlight reel of some of the finer moments.
James Young dunks on entire Connecticut team
No words needed.
UConn goes from ineligible to NCAA Champions
The Huskies are one year away from missing the tournament because of a low APR score. To redeem themselves, all they did was beat No. 2 Villanova, No. 3 Iowa State, No. 4 Michigan and No. 1 Florida en route to the title.
Mercer beats Duke, Nae Naes into hearts across the globe
The brilliant, simple play that won the game for Mercer
Basketball can often be a highly complicated game, but the Bears played it super simple on the most important possession of their win over Duke. Leading 65-63 and needing a basket to help put the game away, Mercer stuck with its high pick-and-roll, perfectly executed the play and extended its lead to four. It's the kind of late-game execution we didn't always see in the tournament.
Iowa State coach Fred Hoiberg embarrasses children with horrible dance moves
Aaron Craft takes a nap
It was the third time in school history that Ohio State lost in the first round of the tournament. In the most fitting fashion, Craft and company were the very first upset of the NCAA Tournament. The Internet responded as quickly as possible.
Aaron Harrison's monster three version 1.0
The three that gave Kentucky the permanent lead against Louisville.
Aaron Harrison's monster three version 2.0
A three at the buzzer to defeat Michigan and send Kentucky to the Final Four.
Aaron Harrison's monster three version 3.0
A three at the buzzer (again) against Wisconsin to send Kentucky to the title game
Kentucky-Louisville was everything we imagined it could be
The 74-69 thriller was a nice reminder that Kentucky really, really means business when it comes to college hoops. Check out Steven Godfrey's feature for more on basketball in the home of John Calipari and Rick Pitino.
Stanford upsets Kansas in the third round...
... because of plays like this monster block from Josh Huestis:
Wayne Selden probably should have tried to dunk that one.
Saint Louis rallies from 16 down to win against N.C. State
The North Carolina State Wolfpack seemingly had the No. 12 over No. 5 upset set in stone, but they forgot to hit their free throws to close out the game. Saint Louis would rally from 16 down and win in overtime, ensuring that at least one No. 5 made it through the second round.
Tyler Ennis misses final three, Dayton upsets Syracuse in the third round
Stephen F. Austin's four-point play sends it to overtime
VCU held the lead with 6.7 seconds left. Then Desmond Haymon launched up a three, made the bucket and was called for the foul. He made his free-throw to force overtime, and Stephen F. Austin would end up pulling the upset.
DeAndre Kane downs UNC
Shabazz Napier's threes stun Villanova, induce arm-swinging:

And then Napier's threes rain on Michigan State, too.

Not many people predicted the Huskies run to the championship. Quite a few people predicted Michigan State would be there, however. Napier made sure that wasn't going to happen.
Frank Kaminsky arrives on national stage as Badgers pound Baylor
See, there was a time when we didn't all know about Mr. Kaminsky. That has since passed, but the 7-footer scored a game-high 19 points against the Bears as part of his breakout tournament performance. WE SHOULD HAVE KNOWN WHAT WAS COMING.
Wisconsin downs Arizona in overtime
This was the final shot of regulation. It was absurd. Wisconsin got out front in overtime and advanced to the Final Four for the first time since 2000.
Bo Ryan's post-game interview after reaching his first Final Four
It was a long time coming for Bo, and he showed it during the post-game interview. Really, though, how can you not love this guy?
Texas downs Arizona State at buzzer
Arizona State was all set to win, and looked even more like it would with Texas' final shot being so far off. But it was Texas' second to last shot. The Longhorns last shot won the game.
Arizona State's bench reacting to Arizona State's loss
Sometimes the best human reactions are captured in the toughest moments. Example A:
Cleanthony Early throws down a massive dunk on Willie Cauley-Stein
Andrew Wiggins shows why he belongs in the NBA
Kansas made an early exit, which is a shame because it deprived the college world any more of Wiggins' highlight reels.
North Dakota State wins first tournament game in school history
Here is the three hit to tie the game against Oklahoma. The Bison would eventually win in overtime.
North Dakota State coach Saul Phillips' post-game interview after loss to San Diego State
Phillips gave the post-game interview of the tournament, placing a little bit of humanity into March Madness.
Seriously, it is impossible not to root for the Bison
That one time Nik Stauskas tried for assist courtesy of the backboard
And that other time Stauskas ALMOST dunked
Nooooooooooo you were so close!
Kentucky hands Wichita State its first loss of the season
The Shockers history-making season eventually had to come to a close.
The Stanford band
They reportedly tried to smuggle alcohol into arenas via their tubas and also smuggled in the most overly-enthusiastic cowbell player in the nation.
CryingKid.gif
While Stanford was in the process of upsetting Kansas in the round of 32, CBS heartlessly, and quite slowly, zoomed in on the bitter tears of a young Kansas fan.
Dayton shows all other schools how to successfully celebrate a NCAA Tournament win
Basically the whole campus headed joined in on the fun.
Drake is Kentucky's biggest fan because why not
Drake's over here like pic.twitter.com/vR4q6ZQzlh

— Kenny Ducey (@KennyDucey) April 8, 2014
American center shoots free throws with one hand because America
Doug McDermott says goodbye to college basketball
The Baylor Bears celebrated their win over Creighton by messing up Craig Sager's hair
Because there is no better way to celebrate.
Dayton Daily News trolls Ohio State, hard
Dayton went as far into the NCAA Tournament as Ohio State was supposed to. The local paper took it, and ran with it.
UConn sweeps basketball titles
Prior to this year, only one school has won both the men's and women's titles in the same year; Connecticut back in 2004. Nice way to celebrate the 10-year anniversary.
Adreian Payne sets Michigan State tournament record with 41 points
Shaq burns Charles Barkley's belly
charles Barkley your belly looks tired, you should rest it on the desk. What's up Kenny clark and the legendary MR GUMBLE tell to brotha hi

— SHAQ (@SHAQ) March 28, 2014
UConn fan loses out on $100,000 because he forgot to pick UConn to win it all
Kansas State picks up the most bizarre technical foul possible
NCAA folks, forever killing as much fun as possible.
Kansas State was accessed a Class B technical foul during warm-ups. UK will shoot two free throws prior to the jump ball.

— Kentucky Basketball (@KentuckyMBB) March 22, 2014
Official word on K-State tech: You can't dunk once the pregame clocks goes below 20:00. Walk-on Brian Rohleder dunked at 19:58. Unreal.

— Jason King (@JasonKingBR) March 22, 2014
Iowa trombone player copes with loss on national television
Michigan hits a school-tournament record 14 three pointers to down Texas
The Wolverines were 14-for-28 from behind the arc in the win.
Patric Young saves his meanest mugs for the camera
Florida had no problem dismantling Pittsburgh in the second round thanks to plays like these.
Remember kids, tattoos are permanent
Just ask Tyler Austin Black, the proud owner of the following ink.
Reminder: Kentucky fan @tizzblack got this tattoo before the tournament started pic.twitter.com/R4n9plmJfX

— darren rovell (@darrenrovell) March 30, 2014
Payne's Slam Dunk Contest availability
Michigan State losing in the Elite 8 surely disappointed some, but it also freed up the team's star big man for college basketball's Slam Dunk Contest. The end of March Madness in East Lansing was probably in the best interests of us all.
Mitch McGary loves all the three-pointers
The Wolverines couldn't get any help on the court from their injured big man, but he did his best to put in a good effort on the sideline:
Alright, fine, Aaron Gordon, you're athletic
Hey there, NBA scouts:
Syracuse loses to Dayton, Jim Boeheim struggles to comprehend reality
"Surely Dayton can't beat us AND Ohio State in one weekend. That's impossible," the Syracuse coach apparently thought.
Your classic "ball-stuck-on-the-backboard" game delay
This is when it's useful to have the ol' broom ready to go:
When Florida dunked all over Albany
Soooo many dunks! (Okay, the second one isn't a dunk.)
Harvard playing spoiler again with upset of Cincinnati
Pretty impressive win over the Bearcats. And hey, it's not like Crimson fans have anything else going for them, right?
Harvard nearly reaching Sweet 16
Getting a second-round win for the second straight year was impressive enough, but after rallying from a 16-point deficit to take the lead over Michigan State in their next game, it seemed like the Crimson had a shot at taking their success to another level.
Alas, the Spartans' talent won out, with Branden Dawson scoring 26 points to lead MSU's 80-73 win. But it was another strong performance by Harvard, which continues its ascendance under head coach Tommy Amaker.
Pittsburgh showing up the Buffaloes with 29-point blowout
The Panthers led 13-0 minutes into the game, extended that lead to 30-7 during the first half and simply cruised to victory from there. Colorado, it seems, did not have its ideal experience at the NCAA Tournament in 2014:
Colorado still isn't out on the court with 2:45 left before the 2nd half starts. Maybe they went home?

— Dan Wolken (@DanWolken) March 20, 2014
Willie Cauley-Stein's crazy undershirt
We never like to celebrate when an athlete can't play due to injury, but at least the Kentucky big man could show his fashionable side on the sideline: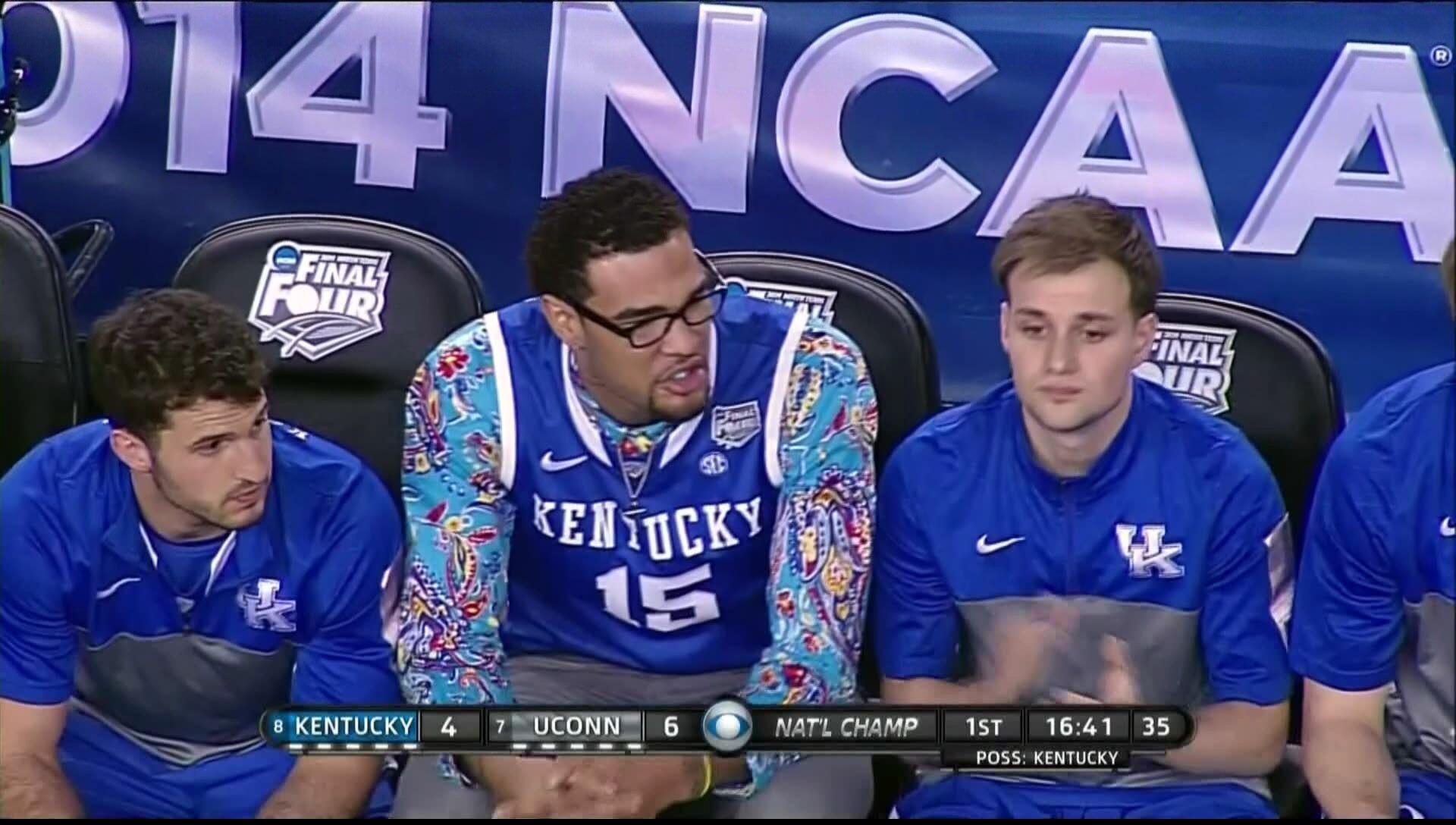 Elgin Cook, Oregon's second-round surprise
The sophomore wing out of Wisconsin had scored in double-figures just once since mid-December, but with the Ducks needing someone to step up in their opening game against BYU, it was Cook to star. Playing 23 minutes -- his most in over two months -- Cook poured in 23 points on 8-of-9 shooting to help carry Oregon.
A 7'5, 360-pound center dunked in the tournament
Sim Bhullar is the starting center for New Mexico State. He is a very, very large human being, who also happens to dunk basketballs:
Wisconsin guard Ben Brust's brother really likes Wisconsin
This didn't even come after a basket by his own brother:
Albany topping Mount St. Mary's to tip off the tourney
By the time the Final Four has rolled around, we've mostly forgotten about those mid-major teams who were so excited to reach the NCAAs in the first place, but Albany and Mount St. Mary's still played a good one to kick off the 2014 tournament. As we would later see, the 71-64 game was a sign of good things to come.
Unfortunately, we mostly remember buzzer-beaters from early-round games, and this big shot didn't fall for St. Mary's:
Nick Johnson scores 15 points in three minutes to lead Arizona over SDSU
San Diego State looked ready to hand Arizona a major upset in the Sweet 16 before Pac-12 Player of the Year Nick Johnson came alive late. He scored all 15 of his points in the final three minutes, powering the Wildcats to a 70-64 victory and an Elite 8 appearance.
Shabazz Napier named Most Outstanding Player
Following in the footsteps of Kemba Walker, leading his team to an unlikely national championship, could it be anyone else? Napier scored 22 points in UConn's championship game victory over Kentucky, and as you've seen in this post, his earlier games were full of exciting, game-changing plays. He was a no-brainer to win the tournament's top award.
Satchel Price contributed to this post.