With Derrick Rose's season-ending knee injury and a trade that sent Luol Deng to Cleveland, there may not be a healthy player more important to the Chicago Bulls' future than Jimmy Butler. So naturally, with Chicago locked in a triple-overtime battle against the Magic on Wednesday, Butler played 60 minutes -- a regular-season franchise record.
For head coach Tom Thibodeau and the Bulls, this is nothing new. Over the past few years, Thibs' minutes management has undergone increased scrutiny, with many around the game wondering why he pushes key players so hard at seemingly unnecessary times. It's even been suggested the front office wanted to involve itself in the way he dispenses playing time.
That context makes Butler's grueling Wednesday night especially interesting. In the past, we've seen Thibs push guys such as Deng and Joakim Noah pretty aggressively -- but never to a full 60 minutes of hoops in one night, just days after returning from a minor injury. If you wanted to add this to the list of questionable playing-time decisions, it would be hard to fault.
Here's Yahoo! Sports trying to comprehend the idea of an NBA player going 60 minutes: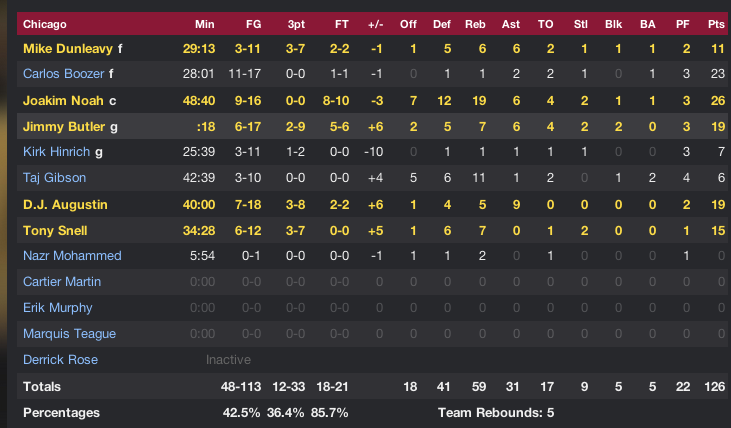 I'm pretty sure that's the box score equivalent of ERROR NOT FOUND. It's been done before, but rarely with a player coming off injury like Butler.
After the game, Butler was the trooper we expect him to be:
Butler on possibly playing another OT. "I would have played but 911 would have been on speed dial."

— Nick Friedell (@NickFriedell) January 16, 2014
It's a player saying player things, but don't ignore the biggest part of that message: Butler's saying he was gassed. Don't doubt for a second that Thibs would've sent him right back out there for a fourth overtime if that's what it'd take to win, though. Here's what the coach said after the game:
Thibodeau on Butler playing 60 minutes, a franchise regular-season record: "That's my favorite TV show."

— K.C. Johnson (@KCJHoop) January 16, 2014
That's not a man who feels remorse for what he's just done.
In the biggest scope of things, nights like Wednesday probably aren't worth freaking out about, not when the players and Thibs buy into each other so much and want to fight like they are. But in the long-term, minutes management is an important part of running a team, and it's something Chicago still needs to work on. 60 minutes is just a lot.
• Prada's Pictures: Kyle Korver, Amir Johnson lead Film Room All-Star team
• The Hook: Stop slandering Blake Griffin | Even POTUS teases Chalmers
• Drive & Kick podcast: Are the Raptors for real?
• Anthony Bennett's having the worst rookie season ever by a No. 1 pick
• Celtics dump Crawford, Brooks in 3-team deal | Rondo's returning?