We all knew Kevin Durant and the Oklahoma City Thunder were rolling lately, but a road matchup against the Miami Heat would surely put an end to that, right? No, no and heavens no; the Thunder dominated a 112-95 win in South Beach on Wednesday night.
Guarded by LeBron James for much of the contest, Durant delivered his 12th consecutive 30-point game as OKC rallied from an early 22-4 deficit. It was another dazzling display, one that included the Thunder star going "on fire" NBA Jam-style. Literally (image may be digitally enhanced, but probably not):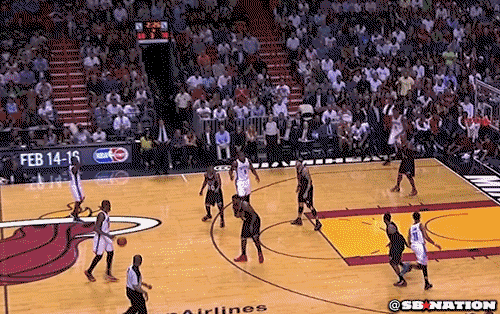 Durant finished with 33 points on 12-of-23 shooting Wednesday. He also got a ton of help from Derek Fisher and Jeremy Lamb, who combined for 33 points on 12-of-17 shooting off the bench, as well as Serge Ibaka, who added 22 points and eight rebounds.
But we don't want Thunder fans to have too much fun yet, so hey let's see what Kendrick Perkins was up to:
Shucks.
Bulls 96, Spurs 86
If you wanted an idea of how excited Gregg Popovich was for this game, take a peek at his starting lineup:
(via @lukezim)
Surely a tribute to David Stern's upcoming retirement.
We usually expect San Antonio to compete regardless of who's starting, but Tom Thibodeau's Bulls aren't exactly to be meddled with. Chicago came out playing its usual brand of aggressive, physical basketball, finishing the game with an incredible 19-7 advantage in turnovers.
All five starters scored in double-digits for the Bulls, led by Jimmy Butler's 19 points. Carlos Boozer added 16 points and 12 rebounds in the win.
The Celtics let Evan Turner go ISO on Jerryd Bayless in the final seconds of the fourth quarter -- lucky for Philly, that's pretty much Turner's thing. He schooled the smaller Bayless with some smooth handles to stun the home crowd with a layup as time expired:
Turner's basket gave him 16 points for the game. He also had eight assists and six rebounds, doing his usual stat-stuffing. Spencer Hawes led the Sixers with 20 points and eight rebounds, while Jared Sullinger led Boston with 24 and 17.
We usually talk about elite players breaking the "50-40-90" milestone of shooting percentages, but the Suns topped that as a team Wednesday. Phoenix shot 54 percent overall, 52 percent from three and 94 percent from the free throw in the win, putting on an offensive clinic in Milwaukee.
Goran Dragic was simply, er, magic for the Suns, recording 30 points and six assists in just 24 minutes of action. The Bucks simply didn't have answers for his penetration and finishing ability, the end result being a shooting party for his teammates as defenders scrambled to keep things together.
The re-re-resurgence of Gerald Green also continued Wednesday with a 23-point performance. Maybe he'll be like the Alex Rios of basketball, alternating good and bad years to the frustration of pretty much everyone.
Do you still not believe in Kyle Lowry? What else must this man do to convince you he's one of the game's best two-way point guards? Because the Magic simply had no answers for Lowry as he racked up 33 points, 11 assists and seven rebounds in a dominant outing on Wednesday.
More than half of the point guard's scoring came from beyond the arc, where Lowry drained 6 of 11 three-pointers. Toronto hit 14 three-pointers overall in the win, getting nearly half its points from long range:
Toronto also dominated the boards as Amir Johnson (22 points, 11 rebounds) and Jonas Valanciunas (14 points, 15 rebounds) overwhelmed a frontline that got just 20 minutes from a recovering Nikola Vucevic. Playing his first contest since Jan. 6, Vucevic recorded 16 points and 10 rebounds.
Who figured this game would have both teams fail to score 90 points? The answer is nobody, considering this is the lowest-scoring contest of the season (in terms of total points) for both teams.
Offense tends to a strength for both of these teams, but Wednesday was an abject disaster as Anthony Davis sat out with a finger injury. The Timberwolves shot 40 percent from the field, a bit better than New Orleans' 35 percent effort. Both teams were a combined 6-of-41 (15 percent) from beyond the arc. Most points came in the paint, simply because neither team could hit a damn shot.
Even in an ugly game like this, Kevin Love still managed 30 points, 14 rebounds and five assists, because he's an unstoppable monster. Without Davis, the Pelicans were noticeably undersized; Al-Farouq Aminu led the team with 18 points and 12 rebounds.
A vintage game from Dirk Nowitzki wasn't enough to top Houston's balanced attack on Wednesday. The Mavericks rallied from 12 down with less than three minutes to go and set up Jose Calderon with a game-winning opportunity, but his three clanked and a second attempt following an offensive board also fell wayward.
It was just one of those nights for Dallas, which got 38 points and 17 rebounds from Nowitzki, but not much else. Calderon and Monta Ellis were simply terrible in the loss, combining for 14 points on 5-of-22 shooting in 68 minutes of action. If it weren't for the big bench performances of Vince Carter, Devin Harris and DeJuan Blair, Dirk's spectacular effort would've been even more wasted.
Without James Harden, Chandler Parsons stepped up to lead the way with 26 points and five assists. Dwight Howard added 21 points and five rebounds, while Jeremy Lin recorded 18 points, seven rebounds and seven assists.
This was the kind of game where Randy Foye scored 33 points, only to be topped by Al Jefferson's 35-point outburst. Still, it's hard not to be impressed by the Bobcats getting a win at Pepsi Center, where the Nuggets have somehow looked incredibly human this season.
Playing at the high altitude has typically given Denver a sizable advantage at home, but the loss Wednesday drops the Nuggets to 12-10 at Pepsi Center this season. The Nuggets' defense couldn't hold up down the stretch, which doesn't bode well for the team considering Charlotte's far from an offensive juggernaut.
Also, Jefferson's been pretty hot over his past 10 games: 26.9 points and 11.9 rebounds per contest while shooting 56 percent. Gotta tip the hat to that one.
Grizzlies 97, Kings 87
Showing some sustained signs of life since Marc Gasol's return, Memphis improved its January record to 11-3 by topping Sacramento on Wednesday. The Grizzlies are now 7-1 since the Defensive Player of the Year's return and appear to be finding their stride.
While the Grizz saw Mike Conley step up in Gasol's absence, he's continued to thrive in recent days. Conley finished Wednesday with 27 points and 10 assists to lead all scorers.
Without DeMarcus Cousins, who's still recovering from nagging injuries, Isaiah Thomas led the Kings with 24 points. Rudy Gay added 23, including two on this DUUUUUUUUUUUNK (necessary spelling):
Blake Griffin scored 29 points and grabbed nine rebounds to lead the Clippers over the visiting Wizards 110-103. It was the fourth consecutive win for Los Angeles, now 10-3 without point guard Chris Paul.
Jamal Crawford added 21 points off the bench for the Clippers while J.J. Redick scored 20 and DeAndre Jordan grabbed 17 rebounds for his 25th straight double-digit rebound game.
Bradley Beal led the Wizards with 20 and John Wall added 19, but Washington shot just 3-for-22 (13.6 percent) from beyond the arc, including 0-for-12 from Beal, Wall and Trevor Ariza.
In case you didn't hear, they're dealing with some weather down in Atlanta.
• NBA newsletter: Good morning, Dwight Howard hacks back
• Garrison: Anthony Davis is the NBA's next superstar
• The Hook: How Adam Silver can end the NBA's lockout pattern
• Mission Improbable: How do you score on the Pacers?
• Ziller: The 30 biggest moments of David Stern's career