Terrence Ross had an epic throwdown against the Denver Nuggets' Kenneth Faried on Friday night, posterizing the young forward in what could be the dunk of the year. Let's go step-by-step through the play and see how Ross elevated on his rocky mountain high.
The turnover
Denver is setup for a quick post play out of the HORNS, with two high posts and two wings in the far corners. The play is supposed to be a quick high-low post-up with Timofey Mozgov.
Randy Foye passes the ball to Faried in the left high post. Simultaneously, Mozgov pushes his way to the right block and looks for a quick pass from Faried.
Amir Johnson is battling with Mozgov before the play even starts, and he probably gets away with a little arm pull on the Denver center. That allows him to swat away the inlet pass from Faried. Meanwhile, Foye moves down and toward the ball, likely to set a screen in the corner or perform some kind of secondary action as part of the play. That puts him below the break and out of position to defend in transition against the Raptors.
The fastbreak
Poor Kenneth Faried is left to defend against the dangerous Terrence Ross and a charging Amir Johnson, who is in a full-on sprint moving down the middle of the court.
Faried fills the lane on the play properly, never committing to either man and staying down the center of the court. This allows him to defend against the lob but prepare himself to cut across the front of Ross to contest his shot.
The contest
Faried jumps to contest Ross as he goes for the dunk. His right knee is facing in the direction of travel as he tries to avoid fouling the Raptors guard. His decision to cede ground is a smart and athletic move.
The two players meet in mid-air. Faried has jumped straight up with his body recognizing the offensive player's right to space. Ross hangs in the air and Faried tries to block him by moving his arms toward him. Ross cocks back and avoids the contest, freeing up space to slam it home. Here's this frame from another angle, courtesy @NBA_reddit: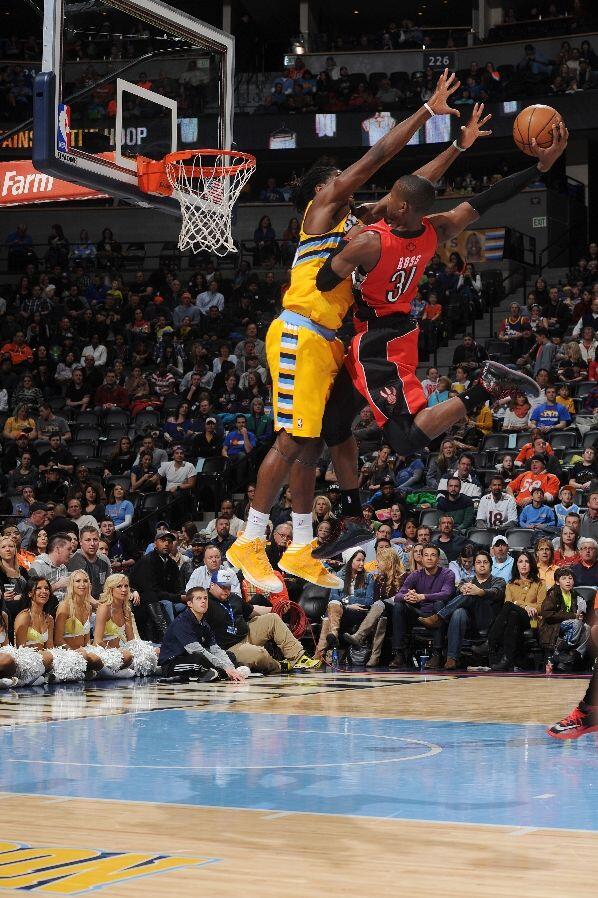 The slam
• The Hook: Why Kyrie Irving isn't leaving the Cavs
• All-Star rosters named | Stephenson, Lowry among snubs
• The Hook: Judge All-Stars on merits, not narratives
• Mission Improbable: How do you score on the Pacers?
• Ziller: The 30 biggest moments of David Stern's career